Description
Description

Specifications

Package Includes

Delivery
Make Your Commute Cool And Quick With Meepo. Riding An Eboard Will Bring A Ton Of Convenience And Fun To The Way You Travel. 
Take it Anywhere
The cut-out part from the board allows easy portability. With a weight of 17.6 lbs, it is easy to carry. Just grab and go! The push-to-start feature allows you to turn on your electric skateboard by a simple push forward! Turn on your remote, push forward and off you go!
Comfortable Widened Deck
The 11.1" width of the deck offers a very large stable space for standing. You will still feel comfortable even in long-distance riding. The eight layers of maple wood make it flexible yet strong (max load: 330 lbs), enabling you to handle the board well when you take tight turns. Equipped with a custom nose guard that protects the deck from breaking when hitting curbs or walls.
The Pocket-sized Connective Remote
The four ride modes allow beginners to familiarize themselves step by step. You can control all four different levels of the acceleration & braking modes independently. Utilizing the 2.4 GHz channel and a signal booster on both the remote and the LY-FOC ESC, ensures a stable and secure connection between the board and the remote, even in the harshest of signal interferences. The 4 lights accurately show the remaining battery capacity, so that the skater can concentrate on the ride itself.
Powerful, Quiet, Easy-Swap
After 6 years of evolving, the 6th-Generation Meepo BLDC hub motors have great power efficiency (500W X 2) while quiet. Plus, its easy swappable structure allows you to replace and renew the outer PU sleeves in case of wearing or adapting to different terrains with upgradeable wheel choices.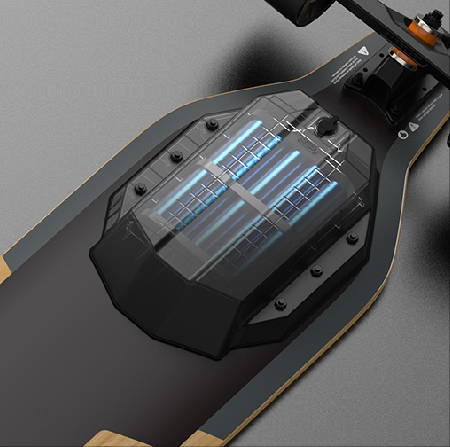 Excellent Battery Discharge
High rate discharge and excellent thermal stability of battery, and outstanding battery cycles (after 200 times of full charging and discharging, remains more than 80% capacity). We use top-tier branded battery cells, 18650(for standard versions) and 21700 (for ER versions) This helps to provide sufficient range for your campus, commuting and street surfing.
Field-oriented Control
The LY-FOC 1.0 ESC (Electronic Speed Controller, aka the brain of e-boards) allows the board to be maneuvered more precisely. We use the latest LY-FOC ESC programmed and designed by MEEPO and Lingyi TECH in collaboration together. It samples input from the remote and the motor 1000 times per second (every millisecond). The precise control makes the ride much smoother and much more beginner-friendly.
11 / 20 MILES RANGE - Great for commuting.
28 MPH TOP SPEED - Fastest in the same price range.
HANDLE DESIGN - Easy to carry.
6-MONTH  WARRANTY - 

Our support is always here to help.
Meepo V5
V5 - 11 Miles
V5 - 20 Miles
Range
11 miles / 18 km
20 miles / 32 km
Top Speed
28 mph / 45 kph
28 mph / 45 kph
Deck
8 Ply Canadian Maple
8 Ply Canadian Maple
Dimensions
38.1'' x 11.1'' x 5.7''
38.1'' x 11.1'' x 5.7''
968 x 282 x 144 mm
968 x 282 x 144 mm
Hill Climbing
18% / 10°
18% / 10°
Battery
144Wh
288Wh
Remote
M5
M5
Motor Power
500W x 2
500W x 2
Trucks
5th Gen Shredder 45° Truck
5th Gen Shredder 45° Truck
Charging Time
2.8h
2.8h
Max Load
330lbs / 150kg
330lbs / 150kg
Wheels
90x60mm, 78A
90x60mm, 78A
Weight
17.6 lbs / 8kg
19.4 lbs / 8.8kg
ESC
LY-FOC 1.0
LY-FOC 1.0
Waterproof
IPX5
IPX5
| V5 - 11 Miles | V5 - 20 Miles |
| --- | --- |
| User Manual | User Manual |
| M5 Remote | M5 Remote |
| Remote Charger | Remote Charger |
| T-tool | T-tool |
| 42V / 1.5A Standard Charger | 42V / 3AStandard Charger |
Order shipment preparation takes 3 days. Once shipped orders usually takes 2 weeks to be delivered. These are estimations; delivery can be delayed for reasons beyond our control. You can always contact us to know the exact delivery time once you placed an order with us. Have a look at our shipping policy here.